DIV. OUTFITS;

DJ Charley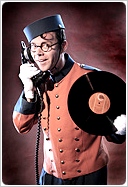 Als DJ Elevator

Retrolicious DJ duo

Sultan Charles



Robin Boy Wonder

DJ Santa
Diverse variations and extra options:
Great Gatsby DJ
- Vintage and Retro music for a Roaring '20 theme event feest with Great Gatsby booth. GreatGatsbyDJ.nl
Charley's Rhythm Revue
- EXTRA for hire: Burlesque dancers, singer, Show girls, GoGo girls, Candy girl, walkabout acts, 40's dance group etc.also see www.MadameRisquee.com
DJ Elevator
- Need 'uplifting background music'?
DJ Elevator in lift boy outfit plays records to uplift the atmosphere.

Alter ego's / other outfits like Marquis DuCharles (classic (with a wink), world or novelty music) Robin the Boy Wonder (60's party etc.) Or DJ Santa!
Retrolicious DJ Duo
- This is a night to dress up for party time. The Retrolicious dj's are inspired by the coolest, swingiest, funkiest and most fun of vintage and retro sounds: ... a fine blend of old, new and timeless party (or lounge) music. SITE
DJ/VJ duo The Scopi-Tonics
- Besides the best (50's-60's & 70's) tunes on Vinyl, ALSO film clips with sound.

DJ Charley works for many event agencies, corporate events, theatres & clubs; Paradiso, Melkweg, Tuschinski, North Sea Jazz Club, Huis ter Duin, L'Europe, SS Rotterdam, Boekenbal, Epica Awards Berlin, Star Alliance, Holland Casino, science quiz, museums, Burlesque events. Etcetera... Bookings are welcome.
Bookings or questions: mail JukeBoxCharley@Gmail.com
or call +31 (0)6 20750027
EXTRAS:

Singer & dancers

Burlesque acts

Charleston dancers

Swing Trio


walk around act(s)